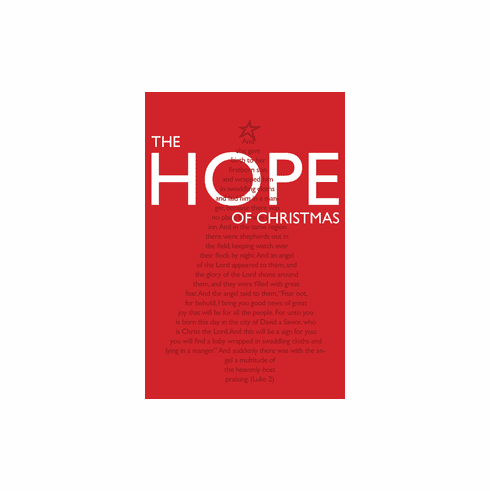 The Hope of Christmas -Gospel Tracks- 25-Pack
The Hope of Christmas
Gospel Tracks, 25-Pack
Page Count: 6
ISBN-UPC: 663575735687
Bible Version: ESV
Trim Size: 3.5 in x 5.38 in
Product Description
The Hope of Christmas, 25-pack

Description

Based on Steps to Peace with God, this tract illustrates that God offers hope and peace to all during the Christmas season through the gift of sending his Son.

Full Text

The Hope of Christmas

Christmas. For many, the word brings thoughts of fun with friends and family and the enjoyment of giving and receiving gifts. For them, as the song says, "It's the most wonderful time of the year!" But for others, Christmas is a painful reminder of broken relationships, lost loved ones, or financial hardships, any of which make the season the most difficult time of the year.

Whatever feelings we have this Christmas, the Bible explains that there is good news that can give us hope and joy no matter what our Christmas season is like. But before we can benefit by this good news, we must first understand the "bad news."

The Bad News: We are all separated from God

God did not create us like robots to automatically love and mechanically obey him. The first man and woman chose to disobey God and to go their own willful way. Each of us since then has been born sinful and disobedient towards God. All this results in spiritual separation from him.

The Bible says…

"All have sinned and fall short of the glory of God." Romans 3:23

"The wages of sin is death." Romans 6:23

People have tried many ways to bridge this separation between themselves and God.

The Bible says…

"There is a way that seems right to a man, but its end is the way to death."

Proverbs 14:12

"Your iniquities have made a separation between you and your God." Isaiah 59:2

No bridge reaches across that separation…except one.

The Good News: God has provided a bridge—the cross

Jesus Christ died on the cross and rose from the grave. Though he was God's sinless Son, he became a human and took our place in order to pay the penalty for our sin. By doing that he bridged the otherwise uncrossable gap between God and us!

The Bible says…

"For there is one God, and there is one mediator between God and men, the man

Christ Jesus." 1 Timothy 2:5

"Christ…suffered once for sins, the righteous for the unrighteous, that He might bring

us to God." 1 Peter 3:18

"God shows his love for us in that while we were still sinners, Christ died for us….

the free gift of God is eternal life in Christ Jesus our Lord." Romans 5:8, 6:23

"Christ died for our sins…he was buried…he was raised on the third day."

1 Corinthians 15:3-4

God has provided the only way to forgiveness of sin and eternal life. But each person must make a choice.

The Choice: Accept or reject Jesus Christ

In order to receive the forgiveness of sin and the eternal life offered to us by God, we must trust in Jesus Christ and receive him as our Savior.

Jesus says…

"I am the way, and the truth, and the life. No one comes to the Father except through

me." John 14:6

The Bible says…

"To all who did receive Him, who believed in his name, he gave the right to become children of God." John 1:12

"We have peace with God through our Lord Jesus Christ." Romans 5:1

"For God so loved the world, that he gave his only Son, that whoever believes in Him should not perish but have eternal life." John 3:16

What is your decision?

Will you receive Jesus Christ right now and trust in him alone for forgiveness and eternal life? The Bible says that is the only way to find peace with God.

Admit your need—admit that you are a sinner in need of God's forgiveness. Be willing to turn from trusting in anything else for eternal life and trust only in Christ. Believe that Jesus Christ died for you on the cross, came back to life from the grave, and is your only way to Heaven. Accept Jesus' offer to forgive your sins and become your Savior.

You may want to tell him in a prayer like this…

"Dear Jesus, thank you for making it possible for me to find peace with God! I do believe that when you died you were paying the penalty for my sins. I now receive you into my life as my Savior so I can have forgiveness and never-ending life from God! Thank you for dying for me, and for the gift of eternal life you made possible!"

There's no better "Christmas gift" than the gift of eternal life and peace with God through Jesus Christ!

Get your The Hope of Christmas -Gospel Tracks- 25-Pack at discount, wholesale, sale priced, inexpensive and even cheap.