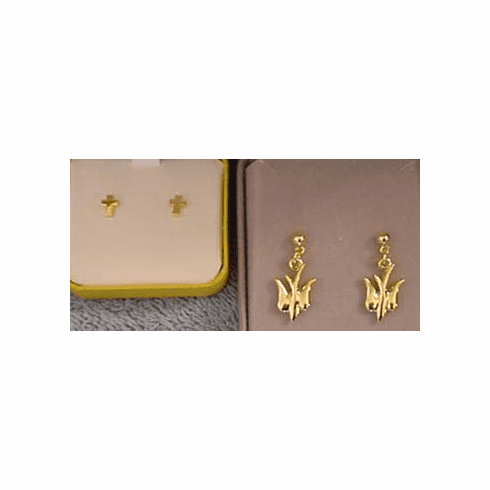 Earrings-Cross-Dove
Dove Earrings 1' Long.
Cross Earrings 1/4" X 3/16"
Product Description
Earrings - Cross and Dove
Add a touch of faith and elegance to your look with these beautiful Cross and Dove Earrings from the Christian Discount Shop. These earrings come in two charming designs, allowing you to choose between the small Cross Earrings and the Dove Earrings, both symbolizing meaningful aspects of Christianity.
Product Details:
Design Options:

Cross Earrings: These earrings feature a small cross design, measuring 1/4" in length and 3/16" in width.
Dove Earrings: Adorn your ears with the graceful Dove Earrings, measuring 1" in length.

Lifetime Guarantee: Both designs of these earrings come with a lifetime guarantee, ensuring their enduring quality and craftsmanship.
Beautiful and Versatile:
These Cross and Dove Earrings are not only symbols of faith but also elegant accessories suitable for any occasion. Whether you're attending a special event, celebrating a milestone, or simply adding a meaningful touch to your everyday look, these earrings are the perfect choice.
A Thoughtful Gift:
Looking for a meaningful gift for a loved one? These earrings make thoughtful presents for friends and family, offering a reminder of faith and love. Celebrate important moments and milestones with a gift that holds spiritual significance.
Quality and Assurance:
The Christian Discount Shop stands behind the quality of these earrings, ensuring they are crafted to perfection. With a lifetime guarantee, you can wear them with confidence, knowing they are made to last.
Whether you choose the elegant Cross Earrings or the graceful Dove Earrings, these earrings are perfect expressions of your faith. Find these and more at the Christian Discount Shop, offering great discounts, sale prices, and wholesale deals on jewelry, books, clothing, and more!