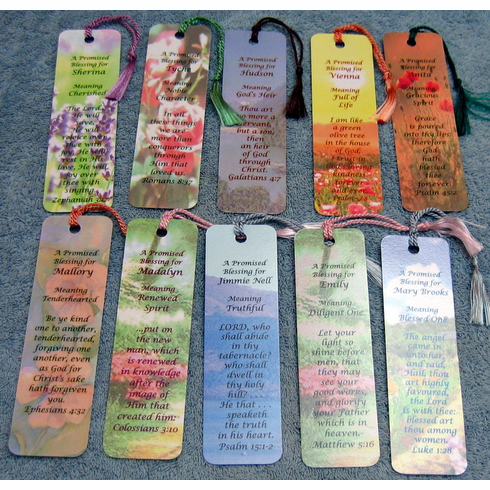 First Name Bible Bookmarks
First Name Bible Bookmarks
Biblical Meaning of Names
Christian Name Meaning Bookmarks with Bible Verses
Size: 1.3/4" x 6. 3/4"
Almost every order has some names that
have to be special order!! 10 to 22 days!!
Now 48 different colorful backgrounds.
Only returnable if defective.
Product Description
Introducing First Name Bible Bookmarks - Uncover the Biblical Meaning of Names
Product Description:
Embrace the profound spiritual significance of names with our First Name Bible Bookmarks. Each bookmark is meticulously crafted, presenting over 25,000 names, along with their meanings and thoughtfully selected Bible verses that beautifully relate to the essence of each name.
Features:
Size: 1.3/4" x 6. 3/4"
Now available in 48 different colorful backgrounds
Bookmarks come with assorted gender-related photo backgrounds, adding a delightful touch to this cherished keepsake.
Please note that background styles are pre-assigned and cannot be selected.
Special Orders and Delivery:
Your Personalized Connection - Any Name, Any Spelling
For names beyond the 144 best-selling names, we offer the option of special ordering to cater to your unique preferences. These special names, including those temporarily out of stock, may require a delivery time of 10 to 22 days, as they are carefully shipped from the manufacturer to ensure utmost quality.
Return Policy:
We take pride in the excellence of our products, and in the unlikely event of any defects, our return policy ensures a seamless resolution.
Order Yours Today:
Discover unparalleled value with our First Name Bible Bookmarks, available at discounted, wholesale, sale prices, making it a meaningful and affordable gift for yourself or your loved ones. Delve into the biblical significance of names and celebrate the divine connections they inspire among us.