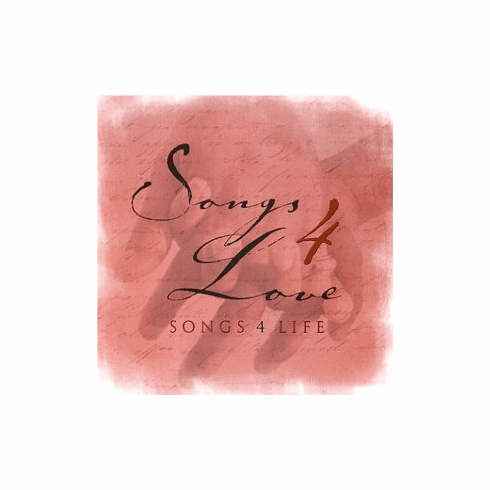 Songs 4 Love -2 CDs
Songs 4 Life
Songs 4 Love
2 CDS

Product Description
Disc: 1.

1. I Will Be Here, Steven Curtis Chapman 2. By Heart, By Soul, Avalon with Aaron Neville-- 3. If You Could See What I See Listen 4. Butterfly Kisses Jeff Carson, 5. Give Me Forever (I Do) John Tesh, 6. Beautiful in My Eyes, Joshus Kadison-- 7. Love of My Life, BeBe & CeCe Winams--8. Faithful Friend, Twila Paris- 9. The Wind Beneath My Wings, Gary Morris- 10. This Flame Margaret Becker- 11. Love Will Be Our Home, Susan Ashton

Disc: 2 1. Cherish the Treasure, Steve Green- 2. Parent's Prayer, Steve Green- 3. Flesh of My Flesh, Leon Patillo- 4. Wedding Prayer, Wenddy & Mary- 5. Household of Faith, Steve Green- 6. Your Love Amazes Me, John Berry- 7. Forever and Ever, Amen, Randy Travis- 8. Lord, I'm Gonna Love You, Chris Tomlin-9. Your Love Broke Through, Rebecca St. James- 10. How Beautiful, Twila Paris- 11.The Love I Know, PFR.

Get your Songs 4 Life: Songs 4 Love--2 CDs at discount, wholesale, sale priced, inexpensive and even cheap.