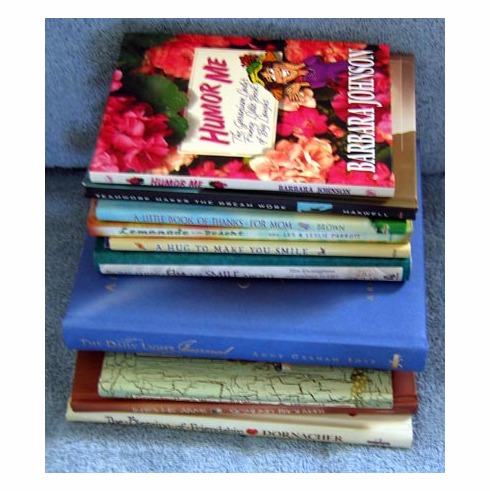 Gift Book Selection
Only One Left Of These Books.
Select From Drop Down Box.
Product Description
Humor Me, By Barbara Johnson, $9.99, 0849917855.

Teamwork Makes The Dream Work, By John C. Maxwell, $14.99, 0849955084.

Thanks For Mom, Littly Book Of, By Joyce Vollmer Brown, $11.99, 1404100563.

Lemonade in the Desert, By Les & Leslie Parrott, $12.99, 1404101128.

A Hup To Make You Smile, Ill. by Tina Wenke, $10.99, 1404100059.

Something Else To Smile About, By Zig Ziglar, $14.99, 0785269126.

The Daily Light Journal, By Anne Graham Lotz, $19.99, 1404101306.

Into His Arms, Seeing Jesus Through Children's Eyes, By Sigmund Brouwer, $12.99, 0849954673.

Grandmothers Wonderful Wisdom, A Journal of Love and Good Sense, By Karen Hill Ill By Maren Scott, $13.99, 0849954967.

The Blessing Of Friendship, A Gift from the Heart, By Karla Dornacher, $14.99, 0849955203.