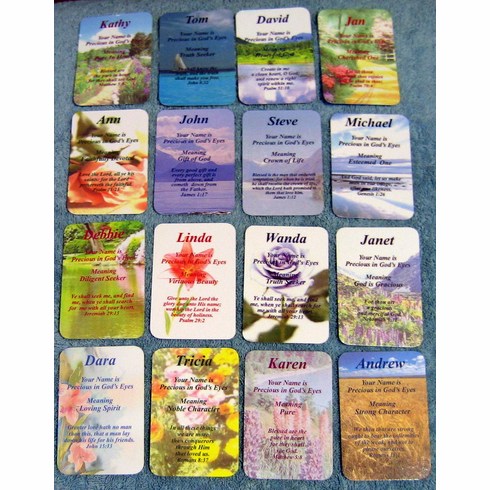 Bible Pocket First Name Cards - Biblical Meaning of Names
Bible Pocket Name Cards
Biblical Meaning of Names
Christian Name Meaning Cards with Bible Verses
Size: 2.38" x 3.5"
We now special order every name. in 14 to 22 days!!
Now 98 different colorful backgrounds.
Only returnable if defective or misspelled.
Product Description
Introducing Exquisite Personalized Christian Name Meaning Cards with Bible Verses
Uniquely Tailored for You - Choose Any Name, Regardless of Spelling
Christian Name Meaning Cards with Bible Verses - Now Featuring 98 Stunning Colorful Backgrounds
Discover an extensive collection of over 25,000 names, each thoughtfully paired with profound meanings and a carefully selected Bible verse that resonates with the biblical significance of the names. Meticulously researched, these meanings reflect the essence of each name, while the accompanying Bible verses provide a profound connection to scriptural wisdom. Our Pocket Cards are elegantly presented with assorted gender-related photo backgrounds, offering a timeless and cherished gift suitable for new parents or children who yearn to explore the profound spiritual essence of their names. Please note that background styles are pre-assigned for each name, ensuring a delightful and unique experience for every recipient.
Special Orders and Delivery
Embrace the Extraordinary - Special Names, Unique Spellings
For names not currently in our stock, we gladly accept special orders to accommodate your distinctive preferences. These special names, including those temporarily out of stock, may require a delivery time of up to 10-22 days, as they are directly shipped from the manufacturer to ensure the utmost quality and attention to detail. Kindly be aware that our in-stock status primarily refers to commonly requested names.
Small Order Charges and Shipping Policy
Delivering Excellence - Our Commitment to Quality Service
To maintain the highest standard of service and product excellence, a small order charge is included in our shipping fees. We sincerely apologize for any inconvenience this may cause. While some may perceive smaller orders as quicker to fulfill, we assure you that every order, regardless of size, receives the same level of care and dedication. In order to sustain our commitment to quality service, a nominal adjustment to shipping fees for smaller orders is necessary. For larger orders, typically 25 or more name cards, we may consider refunding a portion of the shipping cost as an expression of our gratitude for your valued support.
Return Policy
Uncompromising Quality - Your Satisfaction, Our Priority
We take immense pride in the craftsmanship of our products. In the unlikely event of any defects, rest assured that our return policy ensures a seamless and hassle-free resolution.
Experience Unmatched Value - Get Your Bible Pocket First Name Cards at Exclusive Prices
Discover the unparalleled value of our Bible Pocket First Name Cards, now available at discounted, wholesale, sale prices, offering an exceptional and affordable keepsake for cherished moments. Embrace this opportunity to delve into the profound spiritual significance of names and celebrate the divine connections they inspire among loved ones.